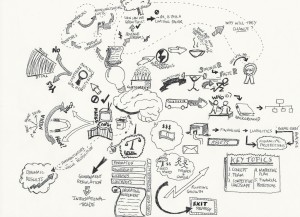 After an Idea Mapping seminar I taught at SMU's Cox School of Business, one of the students drew an map and sent it to me. He's going to use it to evaluate business opportunities. Notice how many images and pictures he included. That doesn't mean your Idea Maps have to look like this, they just have to work for you. That means that yours could be mostly, or even all, words. Yours could be colorful, or monochromatic, depending on what your goal is for the map. Since he's obviously got some experience and skill with drawing, it's only natural that his map has a lot of images. But anyone can learn to draw these images with some instruction and practice. Pretty cool huh?
Close
Bookmark and Share This Page
Copy HTML:
If you like this then please subscribe to the
RSS Feed
.